by Anqi Shen, National Gallery of Canada Magazine
A Google search for "abstract artists" generates articles about Pablo Picasso, Jackson Pollock, and Wassily Kandinsky, to name a few. There is no mention of Kathleen Munn - a 20th-century painter whose work shaped Modernist art in Canada. The Art Canada Institute (ACI) hopes to change that.
ACI documents Canadian art history and makes it free and accessible to the public. Over the past two years, the not-for-profit organization has published twenty-four art books in digital and e-book formats, written by Canada's leading museum professionals. Its ultimate goal is to become the "go-to" resource for Canadian art history education.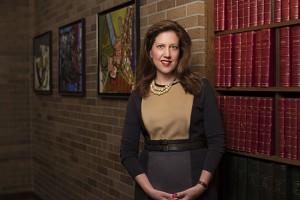 Sara Angel, founder and executive director of ACI, recently gave a talk at the National Gallery of Canada (NGC) about the Institute's mission and journey since its launch in November 2013. "There is a hunger for Canadian art history, and there is a hunger to know about art heritage. It is that which has sustained the organization," Angel says.
Most people find ACI via an Internet search while looking for information about a certain period in art history, an artist, or maybe a region. As a result, they may also discover the life and work of Emily Carr, Pitseolak Ashoona, Paul-Émile Borduas, General Idea, and many other prominent Canadian artists.
Key to ACI's mandate is to offer readers multiple entry points to the subject matter. Each monograph produced by the Institute includes a biography, along with information on the artist's key works, cultural significance, style and technique, and places where the art can be viewed. You might learn, while reading an ACI e-book by Art Gallery of Ontario curator Georgiana Uhlyarik, that Kathleen Munn was often on the fringe of the Canadian art scene, despite her vast ambition. During her lifetime, Munn sold only two paintings to an art museum. She passed away shortly before the National Gallery of Canada purchased one of her paintings in 1974, but wrote the same year that she hoped for "a possible future for my work."
In April, the ACI unveiled a new look for its website, also launching a podcast section and a recurring feature called "My Canada, My Art History," in which prominent Canadians reflect on a work of art that has had a lasting impact on them. Readers can scroll through art books, watch videos, read "spotlight" essays on various Canadian artists, or explore the history of Canadian art in other easily accessible ways. "There was a trend about six or seven years ago, to take print books and digitize them," says Angel. That doesn't really work, because the digital medium is a totally different medium."
Angel began discussions about creating the Institute four years ago, while she was completing her PhD in Art History at the University of Toronto. As an instructor, she often found it difficult to locate resources on Canadian art. "I was teaching classes such as the history of art from the 1900s to the present, and I always thought we had to get Canada in there," she says. "I came across material that went up to the 1980s, but that's where a lot of the print publishing stopped. Online, I found blogs and what people put up, but I couldn't find anything that was a single, authoritative source in a print or digital format."
As a journalist who had also worked in publishing, Angel saw a need to connect the broader public with museum professionals and academics who had specialized knowledge about Canadian art history. "It wasn't that there was no interest in Canadian art among the public — it just wasn't reaching its audience," she says.
For all the possibilities presented by the digital age, however, Angel notes that it hasn't made publishing any easier, as many have assumed. "It's a landscape that's changing so rapidly," she says. "Staying ahead of the curve when it comes to Internet publishing and digital art publishing means constant reinvention."
The ACI's full range of Canadian art e-books can be read online or downloaded at www.aci-iac.ca/art-books.