Grad student Sara Angel has an ambitious idea to make Canadians more aware of our rich visual arts heritage.

by Daniel Baird, U of T Magazine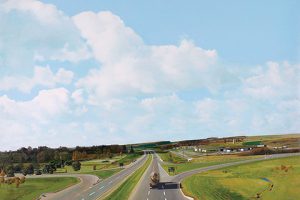 401 Towards London No. 1
, by Canadian artist Jack Chambers
Most Canadians can name at least a few stars of our national literature – major award-winners such as Alice Munro, Margaret Atwood and Michael Ondaatje. But what about Canada's visual artists? While every school child learns who Tom Thomson and the Group of Seven are, such pivotal figures as Michael Snow, Joyce Wieland and Jeff Wall remain largely undiscovered in their own country.
Sara Angel, a fourth-year doctoral student in art history and a Trudeau Scholar, identified this gap and has come up with an idea she hopes will make Canadians more aware of their own artistic heritage. Late last year, she launched the Art Canada Institute. Through its first initiative, the Canadian Online Art Book Project, the institute will publish dozens of monographs by noted scholars on both major Canadian artists such as Snow, Wieland and Wall and overlooked figures such as Kathleen Munn, an early 20th-century modernist painter. Each ebook will be written by an expert on the artist, will run to 17,000 words – about the length of three or four long magazine articles – and will include dozens of colour images.
The first ebook in the series, Jack Chambers: Life and Work, by Mark Cheetham, was published online in November and is available as a free download from the Art Canada Institute website (as all subsequent titles will be). The institute has a roster of 50 art historians and curators who act as consultants; Cheetham served as the founding commissioning editor of the Online Art Book Project.
As a grad student in art history, Angel knew that some minimal information was available about Canadian artists. What was missing was compelling, accessible and educational information for the general public. With the permission of the Trudeau Foundation, Angel used her scholarship as seed money for the institute. "The Art Canada Institute is meant to promote Canadian art history and education," Angel says. "Our natural readers are people who go to exhibitions at museums and those who simply have an interest in the subject. For those people at least, we want to make Canadian artists household names."
Angel is also speaking with colleagues at OISE and with secondary school administrators about making the titles in the Online Art Book Project available in high schools across Canada. Hilary Inwood, a lecturer in art education at OISE, says the digital books would be a useful addition to highschool resources because they are inexpensive and produced in a format that teens will appreciate. "Because of its use of digital media, the Art Canada Institute will fill an important gap," she says. "And teachers will be thrilled: students aren't likely to go out and buy a book by an important scholar on art history, as art books are prohibitively expensive. But they might well look at it if it's free and online."
Angel's plans don't end with the publishing project. The institute intends to develop Canadian art apps for smartphones and tablets, and enlist museum curators to create online exhibitions. Angel would also like to initiate an annual lecture series on Canadian art modelled after the Massey Lectures, with an accompanying print publication. She expects the series to begin in 2016.
Read the first ebook in the Art Canada Institute series, Jack Chambers: Life and Work, at aci-iac.ca/jack-chambers.