Sara Angel received her PhD from the University of Toronto in the Department of Art. Her Doctoral thesis examined how Nazi-era art restitution has become one of the most significant topics in the international art world since the mid-nineties when an explosion in legal claims surfaced by owners or descendants of owners seeking the recovery of cultural work stolen during the Third-Reich.
Angel has presented her research at conferences in Canada and the United States.
Peer-Reviewed Publications
"Two Patrons, An Exhibition, and a Scrapbook: The Lawren Harris–Georgia O'Keeffe Connection, 1925-1926" by Sara J. Angel
The Journal of Canadian Art History Vol XXXII: 2 Download PDF
"The Mnemosyne Atlas and the Meaning of Plate 79 in Aby Warburg's Oeuvre as a Distributed Object" by Sara J. Angel
Leonardo, Vol. 44, No. 3 (2011), Boston: MIT Press. Download PDF
"Lessons from the Press: Picasso and Mass Print Media 1911 to 1937" by Sara J. Angel
Regarding the Popular: High and Low Culture in the Avant-Garde and Modernism. Ed. by Sascha Bru, Laurence van Nuijs, Benedikt Hjartarson, Peter Nicholls, Tania Ørum, Hubert van den Berg; Berlin and Boston: Walter de Gruyter Gmbh & co. KG, 2011.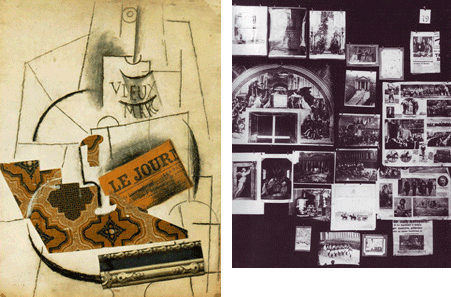 Above left: Pablo Picasso, La Bouteille de vieux marc, verre et journal, 1913 Centre Pompidou, Musée national d'art moderne, Paris

Above right: Aby Warburg, Plate 79 from The Mnemosyne Atlas, 1923-1929